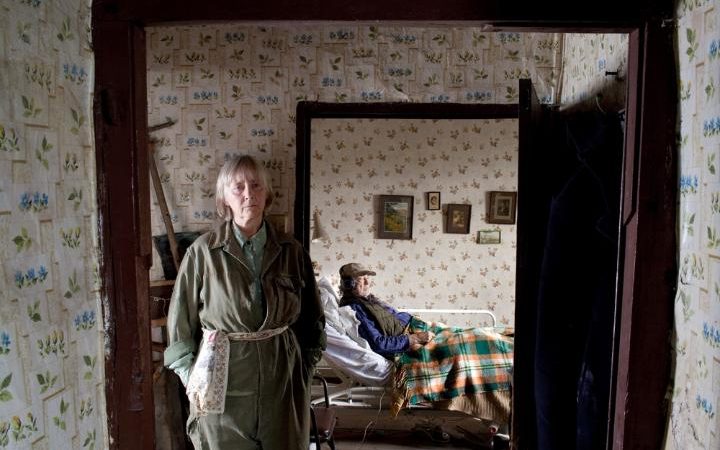 After a warmly received World Premiere at last year's London Film Festival, Tom Browne's feature directorial debut, the award-winning RADIATOR, starring the late Richard Johnson alongside Gemma Jones and Daniel Cerqueira, will open on November 27, released by Picturehouse Entertainment. The film won the Audience Award at this year's Glasgow Film Festival, and further prizes at the Dallas, Sarasota, Nashville and Galway Festivals.
RADIATOR is a raw and acute but darkly comic look at a long marriage and the way love changes over time.
Leonard (Richard Johnson) and Maria (Gemma Jones) live in splendid isolation in their remote Cumbrian cottage. However, age has caught up with Leonard and Maria. Their middle-aged son Daniel (Daniel Cerqueira) arrives to help. But since his last visit his parent's lives have slipped from eccentricity into chaos. They can no longer cope. Leonard has decided to become bedbound and is even more defensive and antagonistic than he was before.  Daniel's mother is delighted to see him but does not want to talk about the mundane practicalities of her life. With only a few days free from work Daniel quickly sets about trying to restore some order to their arrangements but is confronted by the highly adversarial relationship he has with his father.
The script (co-written with Daniel Cerqueira) was very much inspired by Tom Browne's personal experiences with his own parents, and the film was shot in Cumbria in his late parents' house.
As an actor, Tom has worked with directors such as Jean-Marc Vallee, Woody Allen, Stephen Sommers, Michael Apted, James Ivory and George Sluizer. He co-wrote and starred in the cult film NINE LIVES OF TOMAS KATZ  and in such films as THE MUMMY RETURNS, VAN HELSING and SHANGHAI KNIGHTS. His 2006 drama about ticket touts – BRUSSELS – was broadcast on Channel 4. Tom's first short as a director – SPUNKBUBBLE – premiered at the LFF and then Slamdance.
Richard Johnson was one of the founder members of the RSC and his extraordinarily wide-ranging career spanned successes like THE HAUNTING to KHARTOUM with Charlton Heston and Laurence Olivier. Gemma Jones starred in Woody Allen's YOU WILL MEET A TALL DARK STRANGER and is probably best known for playing Madam Pomfrey in the Harry Potter franchise and for her performances as Bridget Jones' mum. Her other film credits include the Academy Award-winning SENSE AND SENSIBILITY, WILDE and THE WINSLOW BOY. As an actor, Daniel Cerqueira has worked in numerous productions with the Royal Shakespeare Company, Royal National Theatre and Royal Court.  Film and TV includes Memmio in the HBO/BBC production ROME, THE WOMAN IN BLACK and SAVING PRIVATE RYAN.
Produced by Tom Browne and Genevieve Stevens for Turnchapel Films and Rattling Stick, the Executive Producers include Barbara Broccoli, Michael Wilson, Rachel Weisz, Mel Agace, Johnnie Frankel, Daniel Kleinman, Ringan Ledwidge and Paul Harry Thomas.